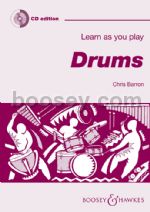 Barron, Christine - Learn As You Play Drums New Edition
Instrumentation: Drum
ISMN 9790060117787
ISBN 9780851625102
Publisher Boosey & Hawkes (London)
Availability: Stock Title
Suitable for both individual and group tuition, the book (now with CD) contains carefully programmed material from absolute beginner to intermediate level. The skills that are covered, including drum rudiments and sight-reading, will enable the student to play in all of these styles: Orchestral, Pop, Rock, Latin and Swing. Throughout the book there are helpful tips and illustrations.



Each of the 12 units in the book:

*Presents new material clearly, step by step
*Introduces new drum basics, gradually increasing a student's knowledge of specific drumming techniques
*Contains short, easy-to-understand exercises, enabling students to develop new skills and styles of playing
*Contains progressive reading exercises to improve sight-reading


Learn As You Play Drums New Edition is based on current best practice in teaching and embodies the principles of the UK's seminal teaching scheme, A Common Approach.


LEARN AS YOU PLAY DRUMS and its sister volume LEARN AS YOU PLAY TUNED PERCUSSION & TIMPANI (ISMN: M-060-08098-2, ISBN: 0-85162-049-3) can be used together: there are many pieces and exercises which can be combined to give students experience of ensemble playing. Together, the two books can make the absolute beginner into an all-round drummer!


Chris Barron is an experienced percussion teacher, performer and composer, working as a teacher and lecturer of percussion and composition in the city and county schools of  Coventry and Warwickshire, England, and at the Coventry Centre for the Performing Arts. Chris has many years' experience as a freelance percussionist in both the classical and
light entertainment spheres, and as a composer has written music for both Boosey & Hawkes' educational and recorded music catalogues, as well as orchestral music and music for theatre, radio and television.
Contents

99 Tracks, Including 31- Double Trouble
99 Tracks, Including 32- Volume Control
99 Tracks, Including 33- Metro
99 Tracks, Including 34- Rock on the Stave
99 Tracks, Including 35- Hi-Hat Trick
99 Tracks, Including 63- A Short Spin
99 Tracks, Including 64- Rolling Along
99 Tracks, Including 65- Big Deal
99 Tracks, Including 67- More Clout
99 Tracks, Including 96- On the Bounce
99 Tracks, Including 97- Where It's At
99 Tracks, Including 98- On Wax
99 Tracks, Including 99- Nitty Gritty
---
Press Reviews
This book and CD by Chris Barron covers both the drum kit and the solo snare for orchestra, It presumes no prior knowledge, explaining musical notation and the names of the parts of the kit. The material is easy to follow. . . . There are duets and solo pieces for the snare drum, and various pop tracks for the kit players, along with the usual rudiments and plenty of reading exercises, so that anyone unfamiliar with notation should have a strong command of reading music by the time they have finished the book.
David West, Rhythm magazine
This series develops futher with a drum tutor that takes the absolute beginner to intermediate level in orchestral, rock and pop, Latin and swing styles and is published under the auspices of the "A Common Approach" teaching scheme.
MI Pro (Musical Instrument Professional) magazine
Written for beginner drummers and takes them up to about Grade 2. . . . The CD includes examples of all the beats and pieces and is recorded in stereo, so that you can isolate the snare drum, bass drum or high-hat on the left- or right-hand channels. There are little backing tracks to practise the drum-kit beats to, and accompaniments for the pieces, which can also be played with the other parts in Learn as You Play Tuned Percussion and Timpani.
Rebecca Berkley, Music Teacher magazine
Tell us what you think