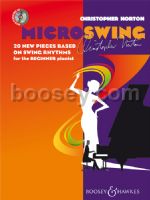 20 New Pieces based on Swing Rhythms
Instrumentation: Piano
ISMN 9790060120497
ISBN 978-0-85162-584-3
Publisher Boosey & Hawkes (London)
Availability: Stock Title
Level of Difficulty: Beginner
Revel in the style and mood of Christopher Norton's set of original piano miniatures.


MicroSwing introduces the beginner to the exhilaration of Swing musical styles: twenty pieces capturing the characteristic qualities of this energizing and captivating music but with only modest technical challenges. Play along to the backing CD or listen to the composer's own vibrant performances.
Contents

01 Top Man
02 Irish Swing
03 Bits and Pieces
04 All the Way Home
05 Five Knights
06 Township Song
07 Two-hander
08 A Simple Tale
09 The Spying Game
10 A Happy Occasion
11 A Little Distracted
12 Played Out
13 Casual Air
14 Today's the Day
15 Prom Night
16 Trail Boss
17 Guiding Light
18 In the Playground
19 Early Evening
20 Blues Lament
---
There are currently no reviews for this product.
Tell us what you think
---
News stories for this title
MicroSwing: New Pieces from Christopher Norton