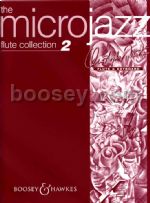 Norton, Christopher - Microjazz Collection 2 (Flute & Piano)
Instrumentation: Flute, Piano
ISMN 9790060110603
Publisher Boosey & Hawkes (London)
Availability: Stock Title
Level of Difficulty: Intermediate
Easy pieces in popular styles such as jazz, blues, rock 'n' roll and reggae. This collection contains all the pieces formerly contained in Microjazz for Flute, plus brand new pieces too.



Contents

A Cheerful Song
Bright Spark
Carthorse Rag
Down the Line
Dreaming
Duet
Easy does it
Face in the Crowd
Feeling Blue
Film Theme
Folk Shuffle
Gospel
Haiku
High Tide
Home Blues
In Danger
Love Song
On Top of Things
Oriental Flower
Plus Fives
Promises
Riff Laden
Rolling Stock
Scottish
Sheer Grace
Slow Boogie
Song
Southern Song
Springboard
Swing Out Sister
The Joker
Train Blues
Young at Heart
---
Press Reviews
"...stimulating blend of contemporary popular genres and classical values...the ideal basis for progressive learning and teaching."
Schools Music Association, Autumn 1999
"...ideal for the beginner to intermediate student interested in jazz and popular music."
International Journal of Music Education, University of New South Wales 1993
"...fairly simple pieces in a variety of jazz styles, well written and attractive, with true equality of importance for each player."
Music Teacher, no date shown
These collections are based on the already-existing microjazz concept of graded pieces in popular styles, which includes many volumes for all woodwind and some brass instruments...... ..... Pupils familiar with the other microjazz collections will undoubtedly enjoy these volumes and will enjoy being able to see the progress in their own performance skills. Overall this is a pleasing set which would be useful for a good number of pupils of various standards and which will present suitable challenges while remaining an enjoyable tool for study.
Tell us what you think