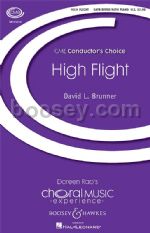 Brunner, David - High Flight (5-part SATB )
Instrumentation: 5-part SATB (Choral Score)
ISMN 9790051484546
Publisher Boosey & Hawkes (New York)
Availability: Stock Title


This product has a minimum order quantity of five copies


Royal Canadian Air Force pilot John Magee wrote his popular poem "High Flight" when he was just 19 years old. In the poem he describes the delirious feeling of wheeling and soaring, and an intimate connection with the divine. Setting these words, the composer's music soars and dives and floats and reflects the joy this young pilot experienced from the pilot's chair.
There are currently no reviews for this product.
Tell us what you think