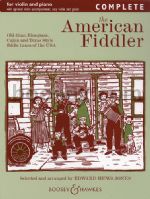 Instrumentation: Violin, Piano
ISMN 9790060105401
ISBN 9780851622071
Publisher Boosey & Hawkes (London)
Availability: Stock Title
Level of Difficulty: Intermediate
Appalachian, Blue-grass, Country, Cajun and Texan Swing for strings. A flexible format and extra optional parts makes these ideal for solos, duets, or a larger folk band. The Complete edition includes a violin part, keyboard accompaniment with optional violin accompaniment, easy violin and guitar.
Contents

Acadian Two-Step (Cajun)
Arkansas Traveller (Old-time)
Bayour noir (Black Bayou Two-step) (Cajun)
Bill Cheatem (Bluegrass)
Blackberry Blossom (Bluegrass)
Cotton Patch Rag (Texas Style)
Cotton-eyed Joe (Old-time)
Cripple Creek (Bluegrass)
Dusty Miller (Bluegrass)
East Tennessee Blues (Cajun)
Fire on the Mountain (Bluegrass)
Gray Eagle (Texas Style)
Johnny peu pas danse (Johnny Can't Dance) (Bluegrass)
Little Maggie (Old-time)
Little Sadie (Old-time)
Old Joe Clark (Old-time)
Ragtime Annie (Texas style)
Sally Goodin (Bluegrass)
Salt River (Old-time)
Stoney Point
The Eighth of January
Tom and Jerry (Texas Style)
Turkey in the straw (Old-time)
Wagoner (Old-time)
---
Customer Reviews
"I HIGHLY reccomend this book! It contains a great variety of songs, and they are fun and easy to learn! This book is definately a winner. "
Tell us what you think