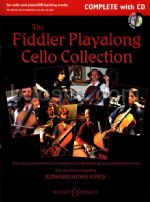 Huws Jones, Edward - Fiddler Playalong Cello Collection (Cello, Piano or Cello)
Instrumentation: Cello, Piano or Cello
ISMN 9790060117848
ISBN 978-0-85162-512-6
Publisher Boosey & Hawkes (London)
Availability: Stock Title
This substantial addition to the intermediate cello repertoire in the celebrated 'Fiddler' format includes cello melody, accompaniment and easy parts, with piano accompaniment and guitar chords, and with performance/backing CD. Around 20 pieces in a wide variety of styles from folk to tango, drawn from, and compatible with, the The Fiddler Playalong Collection violin and viola books.
Contents

Blackberry Blossom
Carolan's Air
Drowsie Maggie
Flower of the Quern
Four corners of my handkerchief
Freylechs from Warsaw
Glwysen
Il est né, le divin enfant
La Cucaracha
La Cumparsita
Makin' Whoopee
Mrs McLeod's Reel
On the Balcony
Paragon Rag
Pastime with good company
Preface/Préface/Einführung
Russian March
Silver leaves of the poplar tree
Staten Island
Watkins' Ale
We three kings of Orient are
---
Customer Reviews
"Came across this collection when browsing local music shop and thank goodness I did. My last few months cello practice sessions have been made so enjoyable by the music included. The variety of playing styles was a revelation to me. Listening and learning from the artists has help free up my technique - the printed music comes with fingering suggestions. The easier cello part included allows you to enjoy playing along whilst trying to master the solo part up to speed. An excellent collection and I hope there will be others to follow. Cellists would enjoy the variety of folk repertoire enjoyed by fiddlers."
Rating: 5/5 2/15/2008 By: Tony Luckhurst
"I was looking for interesting (and not too difficult) material to play on bass recorder, written in bass key. This Cello Collection fits the bill perfectly! I find myself listening to the performance tracks just for enjoying the music, which obviously is very motivating for practice. Compared to similar collections by other publishers I was favourably surprised by the amount of material Boosey & Hawkes include: First cello, easy version therof, cello accompagniment, piano accompagniment, guitar accords. I'll have a close look at the other publications in this series."
"This book has got me back into playing my cello! The range of pieces is great - enough for me to be able to sight-read fairly well, with some requiring more practice to keep me interested. The backing CD works really well, and really useful as an accompanist isn't always available. Please produce more for the Cello like this!"
Rating: 5/5 12/13/2016 By: Rachel Henley
Tell us what you think
---
News stories for this title
The Fiddler Playalong Cello Collection