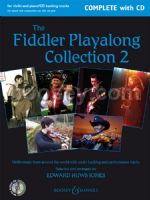 Instrumentation: Violin, CD
ISMN 9790060115844
Publisher Boosey & Hawkes (London)
Availability: Stock Title
The second great collection of the most popular tunes from Edward Huws Jones' Fiddler Collections series, in styles ranging from celtic, ceilidh and cajun to klezmer, gypsy and jazz!



These tunes will definitely pull in the crowds for all buskers who use them, will delight all folk musicians, and can be used for teaching, performing and entertaining.

Each book comes with violin part, a fabulous CD featuring live fiddle with high-quality MIDI backings and a piano accompaniment.
Contents

01 Red-haired Boy (Trad)
02 The Bridal (Trad)
03 Paragon Rag (Joplin)
04 De'il among the Tailors (Trad)
05 Staten Island (Trad)
06 Mrs McLeod's Reel (Trad)
07 On the Balcony (Trad)
08 Little Sadie (Trad)
09 Blackberry Blossom (Trad)
10 Watkins' Ale (Trad)
11 Song of the Ghetto (Trad)
12 Away in a Manger (Trad)
13 Freylechs from Warsaw (Trad)
14 Clear the Tracks (E. Strauss)
15 Glwysen (Jones)
16 Nyth y Gwcw (Trad)
17 Quizas, quizas, quizas (Farres)
18 La cumparsita (Rodriguez)
---
Press Reviews
Like 'The Fiddler Playalong Collection 1', this second compilation of pieces is taken from each of the 12 books in Edward Huws Jones' 'Fiddler Collection'. The melodies are aimed at violinists from Grade 3 to Grade 6, but there are easy violin parts for less experienced players, and the piano accompaniment book includes an advanced violin accompaniment with lots of double stopping. The publication also includes a CD which uses guitar, banjo, piano, accordion and violin as appropriate for the various styles and a harp for one particularly beautiful arrangement of a Welsh folk song. . . . The different styles from Celtic and Ceilidh through Gypsy, Jewish, Latin American and Jazz to the Viennese Fiddler are indeed wonderfully diverse. Although younger players liked the opportunity to be involved in ensembles, I would recommend this book for players of Grade 5—6 standard and would use it for extra repertoire and ensemble work when pupils need a break from technique and exam work.
Jane Gregory, European String Teachers Association
Customer Reviews
"I am so pleased with this collection of violin music! The pieces are well chosen, lovely to listen to and play. The book contains all the instrumental parts including a simplified violin part. The CD is an excellent accompaniment (I quite happily listen to this on its own!). I would highly reccomend this book. "
Tell us what you think