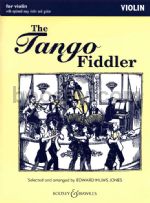 Instrumentation: Violin
ISMN 9790060115813
Publisher Boosey & Hawkes (London)
Availability: Stock Title
This hit series makes authentic folk music available in a flexible format suitable for teaching, busking and performance. The Complete Edition includes a violin part, keyboard accompaniment with optional violin accompaniment, easy violin part and guitar chords.




Contents

01 La Cumparsita
02 La Payanca
03 Chiquilin de Bachin
04 El Chamuyo
05 La Puñalada
06 Catamarca
07 El dia que me quieras
08 Verano Poteño
09 Milonga Sentimental
10 El Choclo
---
Press Reviews
This book brings together 12 classic Argentinean tangos from the golden age of the 1920s, 30s, and 40s, together with some more recent examples of tango nuevo by Astor Piazzolla. It is laid out in Huws Jones' inimitable style, combining the flexible format of other books in the series. The pieces can be performed as solos, duets or larger ensembles (such as might be found in a typical tango ensemble), accompanied by piano, violin or guitar. The arranger suggests that the piano part could be readily athpted to the accordion and that the melodic line could be shared between instruments, thus creating the scintillating contrasts of tone and colour associated with this style of music. There is a range of keys and tempi, much dynamic nuance, harmonics, differences in articulation and double stopping, making for some fascinating detective work in preparation for performance. But overall, these are pieces that are fun to play, arranged with an excellent appreciation of the genre. The ilingo, being a form of a stylised walk, should not be played too fast, and this makes them also ideal sight-reading material, for more complicated rhythms and the inherent nature of the music have space to be savoured. Definitely a worthwhile purchase.
(European String Teachers Association)
Tell us what you think