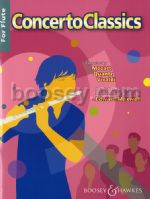 Maxwell, Edward - Concerto Classics for Flute
Concertos By Mozart, Quantz & Vivaldi
Instrumentation: Flute, Piano
ISMN 9790060119514
ISBN 978-0-85162-588-1
Publisher Boosey & Hawkes (London)
Availability: Stock Title
Level of Difficulty: Intermediate
The Concerto Classics series gives intermediate students the opportunity to explore some of the most important and influnetial concertos in their instrument's repertoire. This edition for flute includes concertos by Vivaldi, Mozart and Quantz. Each piece has been carefully arranged as a valuable stepping-stone towards the original great works. Also included are supplementary exercises designed to support students with the various technical aspects required in the solo parts.
Contents

01 Mozart No 1 (K313)
02 Quantz No 29 (QV5:174)
03 Vivaldi Op 10 No 3 "Il Cardellino" (RV428)
04 Supplementary Excercises
---
Press Reviews
This is an excellent book which allows the intermediate player to explore some concerto classics from the flute repertoire...... I would recommend this book to students of grades 4 to 6 who wish to learn concertos but still need to advance their playing.
This volume contains three flute concerti, Mozart K313, Quantz QV5:174 in G major and Vivaldi op.10 no.3 'Il cardellino' RV428. They have been shortened, adapted and simplified so that they are accessible to intermediate players, and the piano accompaniments are also much simpler thatn the usual orchestral reductions which come with these works. The supplementary exercises at the back are excellent, the sort of rhythmic and phrasing exercises all teachers would write out for every student, every lesson, if only they had the time to do it.
Tell us what you think