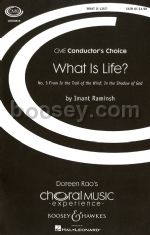 from "In the Trail of the wind"
Instrumentation: SATB
The third movement of the cantata In the Trail of the Wind, In the Shadow of God (written for the 2006 International Bach Festival in Toronto) sets the dying words of the great Blackfoot chief Crowfoot in his final attempt to define the meaning of life. The question is asked three times by unaccompanied TTBB chorus; the answers are supplied by treble voices, and finally by the full choir. Duration: ca. 5:00.
There are currently no reviews for this product.
Tell us what you think