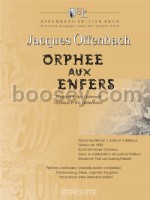 Offenbach, Jacques (Keck) - Orphée aux Enfers (1858) (OEK) (Vocal Score) (French, German - new amended edition)
Orphée aux Enfers
Instrumentation: (Vocal Score) (French, German)
ISMN 9790202535295
ISBN 9783793142263
Publisher Bote & Bock
Availability: Stock Title
Level of Difficulty: Advanced
The full score and vocal score of Orpheus were the first OEK editions to be published shortly after the series launch and, in 2001, the publications received the German Music Edition Prize. A large number of stage productions adopting the OEK edition have followed since then, with Offenbach's 1874 revision of the work, transforming it into a revue-like opéra-féerie, appearing alongside the original 1858 version of Orpheus.
Since the first print runs of the OEK publication of Orpheus, important documents from Offenbach's estate have come to light and can now be incorporated into the edition by series editor Jean-Christophe Keck.
Boosey & Hawkes is therefore now publishing its new edition of Orpheus, starting with a vocal score on sale of the 1858 version. This edition includes full vocal parts with a piano reduction, with complete lyrics and libretto in German and French. The new additions included in this score have also found their way into the OEK performance materials and some have already been featured in recent stage productions.
The most important of the additional items is the quartet La Barque à Caron (Charon's Boat), which was so successful at its premiere that it had to be repeated. Offenbach did not include it in his original printed edition for practical reasons, namely it requires two additional singers, Charon and Cerberus, to join Eurydice and Styx. In this amusing 'vanitas' tableau, Eurydice gets her three guards intoxicated from drinking the waters of Lethe in order to escape from Pluto's captivity.
Another discovery, now made available in the appendix, is the musical interlude before the 3rd scene as well as two versions of the finale to the 3rd scene. Also included is an occasional piece sung during some performances by Mlle Maréchal, a singer particularly appreciated by Offenbach: the couplets of Amphitrite, Pour l'Olympe chéri des dieux. All of these numbers, which now complete the materials for Offenbach's Orphée aux Enfers, are of great appeal both musically and dramatically.
The new edition offers access to a range of resources, including the critical report and a selection of further textual and pictorial material. These are now available on the OEK website (Offenbach-Edition.com) via online links, replacing the previously separate CD-ROM supplement.
There are currently no reviews for this product.
Tell us what you think