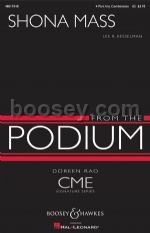 Instrumentation: 4-part voices, percussion
An original work consisting of four movements composed in the spirit of music heard at the Episcopal Cathedral in Harare, Zimbabwe. The text is a combination of Shona, the majority tribe and language in Zimbabwe, and liturgical Latin. May be performed with any combination of voices and percussion. Djembe, claves, shekere, and hand drum parts are included in the score. Duration: ca. 13:00.
There are currently no reviews for this product.
Tell us what you think