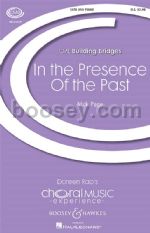 Page, Nick - In the Presence Of the Past (SATB & Piano)
Instrumentation: SATB, Piano
ISMN 9790051484690
Publisher Boosey & Hawkes (New York)
Availability: Stock Title


This product has a minimum order quantity of five copies


Examining a real event of 1851, Page asks us to look to the future where the past is always present. Do we learn from our past or do we make the same mistakes over and over? "Amazing Grace" sung over the top of the original music suggests that we sing of what can be and build on the grace of those who came before us.
There are currently no reviews for this product.
Tell us what you think