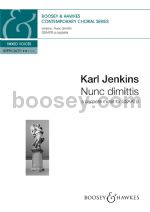 from Motets
Instrumentation: SSAATB
ISMN 9790060129216
ISBN 9781784540128
Publisher Boosey & Hawkes (London)
Availability: Stock Title

for mixed choir (SSAATB) a cappella
Text: Latin (Luke 2:29–32)
Duration: 4'30''
Difficulty: 2/5


from Karl Jenkins' Motets, for mixed choir a cappella


Text
Nunc dimittis servum tuum, Domine,
secundum verbum tuum in pace:


quia viderunt oculi mei salutare tuum quod
parasti ante faciem omnium populorum:


lumen ad revelationem gentium,
et gloriam plebis tuæ Israel.


Now you let your servant depart in peace, O Lord,
according to your word.


For my eyes have seen your salvation which you
have prepared before the face of all peoples:


a light to lighten the nations,
and the glory of your people Israel.


Karl Jenkins
Karl Jenkins is one of the most prolific, popular and performed composers in the world today. His recorded output has resulted in 17 gold and platinum discs, while his The Armed Man: a Mass for Peace has received almost a thousand performances in the decade since its première in 2000. Classically trained, Jenkins transcends musical boundaries, from the seminal fusion band Soft Machine to the global crossover phenomenon Adiemus. Recent recordings include Requiem, Stabat Mater, Quirk and Stella Natalis, while he has composed music for HRH The Prince of Wales, Bryn Terfel, Kiri Te Kanawa, Evelyn Glennie and the London Symphony Orchestra. Karl Jenkins has featured on British TV's iconic South Bank Show, and he has consistently been the highest-placed living composer in Classic FM's Hall of Fame. He was awarded a CBE by Her Majesty the Queen in 2010.



There are currently no reviews for this product.
Tell us what you think