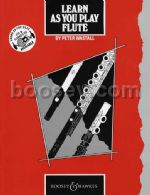 Wastall, Peter - Learn As You Play Flute
Instrumentation: Flute
ISMN 9790060029295
ISBN 9780851620503
Publisher Boosey & Hawkes (London)
Availability: Stock Title
Level of Difficulty: Beginner
The award winning wind and brass tutor series. Learn As You Play provides everything you need from the first lesson upwards. A well structured course of exercises, studies and pieces ensures a good grounding in technique and musicianship. Also available in Dutch, French, German and Spanish language editions.


Contents

A Hymn to Nature (Szelenyi)
A Hymn to Saint Cecilia (Wastall)
A Little Piece (Diabelli)
A Melody in Phrygian Mode (Bartok)
A Sycopated Duet (Garnier)
Adagio (Jardanyi)
Ah Vous Dirai-Je, Maman
Air (Purcell)
Allegretto (Popp)
Almande (Farnaby)
An Old Hungarian Dance (Karolyi)
Andante (Diabelli)
Aria (Gluck)
Aria (Handel)
Aylesford's Piece (Handel)
Cantilena (Gabrielsky)
Chanson de Nuit
Chorale
Chorale (Bach)
Chorale Melody
Chorus (Gluck)
Corumba (Wastall)
Duetto in A Minor (Berbiguier)
Duetto in D Minor (Devienne)
Duetto No. 1 (Gabrielsky)
Duo (Bortniansky)
Duo in D Minor (Chedeville)
Ecossaise (Beethoven)
Ein' Feste Burg (Bach)
Etude (Diabelli)
Fanfare (Charpentier)
Fanfare (Chedeville)
Ffigysbren
Gavotte (Loeillet)
German Dance (Beethoven)
Hail to the Lord's Anointed (Cruger)
Humming Song (Schumann)
Land of Our Fathers
Largo (Dvorak)
Let's Beguine (Wastall)
Lullaby (Schubert)
Lullaby (Szelenyi)
March (Hyde)
Marmotte (Beethoven)
Melody (Beethoven)
Mexican Madness (Wastall)
Minuet (Bach)
Minuet (Mozart)
Minuet (Telemann)
Minuetto (Vivaldi)
Minuetto fr Sonata No3, op99 (Hook)
Pastorale (Bartok)
Piece No. 5 (Franck)
Quem Pastores
Rigaudon (Purcell)
Saint Margarita's Lullaby
Serenade (Haydn)
Soldier's March (Schumann)
Soliloquy (Hyde)
Study No. 1 (Gariboldi)
Study No. 2 (Gariboldi)
Study No. 3 (Gariboldi)
Study No. 4 (Gariboldi)
Swim, Swan, Swim! (Hyde)
The Emperor of Germany's March (Clarke)
Waltz (Brahms)
Waltz (Schubert)
---
Press Reviews
"...a series of instrumental tutors designed to prepare pupils for the early grades of all the principal examination boards."
Music Week, October 1994
Customer Reviews
"I am a self-taught beginner flutist and I started with this book from scratch. I absolutely recommend this, as it allows you to start playing immediately, to progress very quickly and, most of all, to play really beautiful pieces by great composers and tastefully arranged (which I haven't found in other tutorials with CD, usually full of pieces for children with terrible arrangements)."
Rating: 5/5 4/13/2008 By: Katarina Dusikova
Tell us what you think