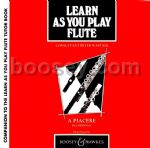 Wastall, Peter - Learn As You Play Flute
Double CD set
Instrumentation: Flute CD
ISMN 9790060095948
Publisher A Piacere
Availability: Stock Title
Level of Difficulty: Beginner
A two disc set providing a perfect companion to the Learn as you Play book. It contains 118 tracks with excersises and pieces with accompaniments from each unit of the book.
Contents

A Hymn to Nature (Szelenyi)
A Hymn to Saint Cecilia (Wastall)
A Little Piece (Diabelli)
A Melody in Phrygian Mode (Bartok)
A Sycopated Duet (Garnier)
Adagio (Jardanyi)
Ah Vous Dirai-Je, Maman
Air (Purcell)
Allegretto (Popp)
Almande (Farnaby)
An Old Hungarian Dance (Karolyi)
Andante (Diabelli)
Aria (Gluck)
Aria (Handel)
Aylesford's Piece (Handel)
Cantilena (Gabrielsky)
Chanson de Nuit
Chorale
Chorale (Bach)
Chorale Melody
Chorus (Gluck)
Corumba (Wastall)
Duetto in A Minor (Berbiguier)
Duetto in D Minor (Devienne)
Duetto No. 1 (Gabrielsky)
Duo (Bortniansky)
Duo in D Minor (Chedeville)
Ecossaise (Beethoven)
Ein' Feste Burg (Bach)
Etude (Diabelli)
Fanfare (Charpentier)
Fanfare (Chedeville)
Ffigysbren
Gavotte (Loeillet)
German Dance (Beethoven)
Hail to the Lord's Anointed (Cruger)
Humming Song (Schumann)
Land of Our Fathers
Largo (Dvorak)
Let's Beguine (Wastall)
Lullaby (Schubert)
Lullaby (Szelenyi)
March (Hyde)
Marmotte (Beethoven)
Melody (Beethoven)
Mexican Madness (Wastall)
Minuet (Bach)
Minuet (Mozart)
Minuet (Telemann)
Minuetto (Vivaldi)
Minuetto fr Sonata No3, op99 (Hook)
Pastorale (Bartok)
Piece No. 5 (Franck)
Quem Pastores
Rigaudon (Purcell)
Saint Margarita's Lullaby
Serenade (Haydn)
Soldier's March (Schumann)
Soliloquy (Hyde)
Study No. 1 (Gariboldi)
Study No. 2 (Gariboldi)
Study No. 3 (Gariboldi)
Study No. 4 (Gariboldi)
Swim, Swan, Swim! (Hyde)
The Emperor of Germany's March (Clarke)
Waltz (Brahms)
Waltz (Schubert)
---
There are currently no reviews for this product.
Tell us what you think