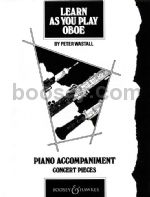 Wastall, Peter - Learn As You Play Oboe (Piano Accompaniment)
Instrumentation: Piano Accompaniment
ISMN 9790060029349
ISBN 9780851620534
Publisher Boosey & Hawkes (London)
Availability: Stock Title
Level of Difficulty: Beginner
The award winning wind and brass tutor series. Learn As You Play provides everything you need from the first lesson upwards. A well structured course of exercises, studies and pieces ensures a good grounding in technique and musicianship. Also available in Dutch, French, German and Spanish language editions.


Contents

A Hymn to Saint Cecilia (Wastall)
A Melody in Phrygian mode (Bartok)
Air (Gretry)
Allemande
Cantilena (Gabrielsky)
Chanson de Nuit
Chorale (Bach)
Chorale Melody
Chorus (Gluck)
Corumba (Wastall)
Duo (Bortniansky)
Ffigysbren
Hail to the Lord's Anointed (Cruger)
Integer Vitae (Flemming)
Let's Beguine (Wastall)
Lullaby (Schumann)
March (Hyde)
Melody (Beethoven)
Mexican Madness (Wastall)
Minuetto (Hook)
October (Cole)
Piece No. 1 (Huszar)
Saint Margarita's Lullaby
Serenade (Diabelli)
Soliloquy (Hyde)
Solstice (Cole)
Swim, Swan, Swim! (Hyde)
Tower Hill (Farnaby)
Variation on 'Ah vous dirai-je, maman'
Waltz (Schubert)
---
There are currently no reviews for this product.
Tell us what you think