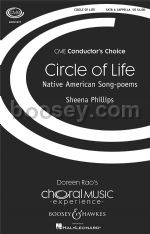 Phillips, Sheena - Circle of Life (SATB)
Native American Song Poems
Instrumentation: SATB
ISMN 9790051482627
Publisher Boosey & Hawkes (New York)
Availability: Stock Title
This five movement work for SATB choir is based on five different Native American peoples. The sequence starts with "Falling," a lullaby, and ends with "Rising," an image of spirits gently swaying on their final journey above. Between these two lie "Waking," a celebration of the joy of being alive, "Singing," which expresses the experience of attending deeply to the natural world, and "Leaving," in which images of autumn remind us poignantly that we must all one day depart from this earth.
Contents

1. Falling (Haida Lullaby)
2. Waking (Utitia'q's Song (Inuit))
3. Singing (Navajo tradition)
4. Leaving (Luiseño tradition)
5. Rising (Wintu tradition)
---
There are currently no reviews for this product.
Tell us what you think