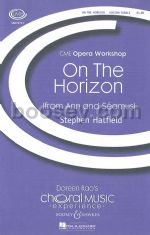 Hatfield, Stephen - On the Horizon (Unison Voices & Piano)
From "Ann and Séamus"
Instrumentation: Unison Voices, Piano
From the opera Ann and Séamus, this is an adaptation from the third scene. The imagery of the sea, salty air, a hard day's work, and an impending storm are all richly portrayed. The piano part supports the vocal line, and lends harmonic and rhythmic interest.
There are currently no reviews for this product.
Tell us what you think