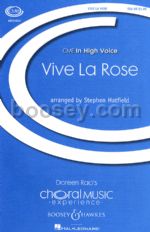 Instrumentation: SSA, Piano
Adapted from an 18th century French folk song, this work tells the story of the female narrator who is in competition with a village beauty. A playful setting that summons up old world towns with their heroines, their rivalries, their heartbreaks and the village gossip in the center of it all. Duration: ca. 4:00.
There are currently no reviews for this product.
Tell us what you think