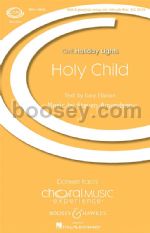 Amundson, Steven - Holy Child (SSA & piano)
Instrumentation: SSA, Piano
ISMN 9790051484638
Publisher Boosey & Hawkes (New York)
Availability: Stock Title


This product has a minimum order quantity of five copies


Written for the famous St. Olaf Christmas Concert in 2002, this is a lullaby for the Christ child sung by his mother Mary at the manger. Mary gently rocks the baby Jesus to sleep while singing of "this blessed night" and "this wondrous sight." Accompanied by piano this is a beautiful addition to any Christmas/winter concert. When the optional string orchestra is employed this is the centerpiece of your program.
There are currently no reviews for this product.
Tell us what you think