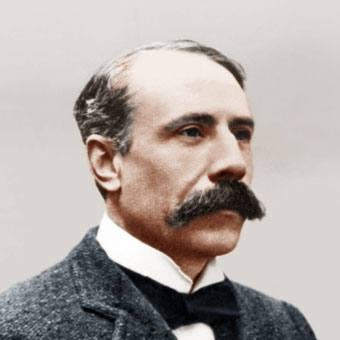 Edward Elgar
b. 2 June 1857, Broadheath, nr Worcester
d. 23 February 1934, Worcester
Edward Elgar was born on 2 June 1857, in Broadheath, near Worcester, in the west of England. His family was musical (his father kept a music shop and was a keen amateur violinist) and he began violin lessons at the age of seven. He acquired performing experience with local chamber groups and orchestras and by the age of sixteen was a proficient enough player to support himself as a freelance violinist and teacher. But his true ambition was to become a composer, and he wrote assiduously for performance locally. After his marriage to Alice Roberts in 1889, Elgar attempted to establish himself as a composer in London, but he failed and the Elgars returned to Malvern two years later.
Elgar kept abreast of contemporary developments on the Continent, not least through visits to Bayreuth and Munich in 1892 and 1893, and began an ambitious series of oratorios that won him growing recognition in the British Midlands as the 1890s progressed. But it was his Enigma Variations, performed in London in 1899, that marked his breakthrough as a composer of national importance. His reputation was consolidated a year later with the oratorio The Dream of Gerontius, and he now began two decades of relentless activity. Gerontius was followed by two more oratorios – The Apostles in 1903 and The Kingdom in 1906 – but it was in orchestral music that Elgar's individual genius shone most clearly, with two symphonies (1908 and 1911), a violin concerto (1910), two buoyant concert overtures, Cockaigne and In the South (1901 and 1904), and four very popular Pomp and Circumstance Marches (1901-7; a fifth followed in 1931).
But soon after the completion of his Cello Concerto in 1919, Elgar's composing life lost its impetus when, in 1920, his wife died, leaving the insecure composer without the moral support he required. A commission from the BBC for a third symphony, instigated by George Bernard Shaw, brought a return of confidence but at the time of Elgar's death, on 23 February 1934, it was only partially complete, in sketch and outline. A realisation of the surviving material by the English composer Anthony Payne (b. 1936), first performed in February 1998, demonstrated that the acuity of Elgar's vision was unimpaired, and the immediate international popularity of the Third Symphony has underlined the enduring popular appeal of his music.
Edward Elgar is published by Boosey & Hawkes.
This biography can be reproduced free of charge in concert programmes with the following credit: Reprinted by kind permission of Boosey & Hawkes