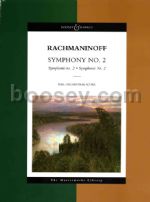 Instrumentation: (Full score - Masterworks)
ISMN 9790060107085
ISBN 9780851621999
Publisher Boosey & Hawkes (London)
Availability: Stock Title
 
The Second Symphony has long been one of Rachmaninoff's most popular and enduring works, combining full-blooded Russian passion with dynamic rhythms and opulent, soaring orchestration.





Now published in The Masterworks Library. Landmark 20th century works from the Boosey & Hawkes catalogue available for the first time in full score format at pocket score prices with introductory notes, illustrations and photographs. Ideal for students, conductors, performers, libraries, CD collectors and general music enthusiasts.
Customer Reviews
"I used this score while preparing a professional orchestral assignment and found it to be of the highest quality. The print is especially clear and large enough for easy reading from the podium. Excellent product, B&H!"
Tell us what you think