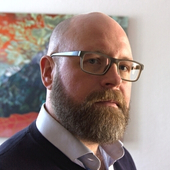 Jüri Reinvere
b. 2 December 1971, Tallinn, Estonia
Reinvere is an Estonian composer, who has been living in Germany since 2005. His compositions often set to music his own poetical writings, whose complex idiom is based on a cosmopolitan life experience.
His first composition teacher was Lepo Sumera. The pianistic training he received in Tallinn took him as far as the concert exam. From 1990 to 1992 Reinvere studied composition at the Fryderyk-Chopin-Music-Academy in Warsaw. From 1994 onwards, he studied composition with Veli-Matti Puumala and Tapio Nevanlinna at the Sibelius Academy in Helsinki, earning a master's degree in 2004.
Reinvere's aesthetics have two aspects: on the one hand, stark modernism with all its attendant harshness of sound, and a steadfastly courageous romanticism on the other. Thus, his music takes on many different sonic guises. His large-scale works, especially the operas and orchestral compositions, take a middle path between the two aspects. They adhere to a psychological understanding of dramatic art, but expand the means of expression beyond the traditions familiar today. In his chamber music and ensemble pieces Reinvere often combines advanced techniques of sound production with classical narrative structures. The stringent development of the work's form goes hand-in-hand with an openness to themes drawn from other art forms, questions of theology, politics, general history and everyday life. The main focus, however, remains on the immediate, sensual presence of art.
This biography can be reproduced free of charge in concert programs with the following credit: Reprinted by kind permission of Boosey & Hawkes/Sikorski.