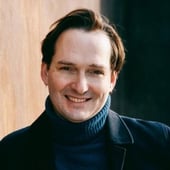 Gerald Resch
b. 5 May 1975, Linz, Austria
Gerald Resch, born in 1975 in Linz, studied composition from 1993 to 2001 in Vienna, Cologne and Graz with Michael Jarrell, York Höller, Beat Furrer and others, as well as musicology, philosophy and art history at the University of Vienna. He teaches at the University of Music and the Performing Arts in Vienna and at the Anton Bruckner Private University in Linz.
He has won a number of prizes and awards including the Austrian State Stipend for Composition in 2003, the Erste Bank Composition Prize in 2011 (for Collection Serti, connected with a feature portrait at the Wien Modern festival) and the Hamburg Tonali Composition Prize in 2012 for Al fresco.
This biography can be reproduced free of charge in concert programs with the following credit: Reprinted by kind permission of Boosey & Hawkes/Sikorski.