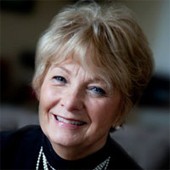 Founder & Editor Emeritus:
Doreen Rao
Doreen Rao's distinguished career as a conductor and teacher links the standards of professional performance with the goals of music education. Celebrated for her spirited and moving concerts, Rao's commitment to choral music is recognized in her worldwide appearances as conductor, masterclass teacher, and lecturer, and in her award winning publications .

Awarded the University of Toronto Elmer Iseler Chair in Conducting (1999), Doreen Rao heads the Faculty of Music graduate program in conducting. Since 1988 she has served as Director of Choral Programs conducting the U of T MacMillan Singers, the University Women's Chorus. She also teaches advanced choral conducting, graduate courses in music education, and regularly conducts the U of T Symphony Orchestra and Choirs in performances of major works with an emphasis on 20th century music. In collaboration with her music education colleagues, Rao directs and advises an extensive professional development and research program in partnership with the Toronto District School Board.

During her long association with the Chicago Symphony Orchestra, Doreen Rao served as assistant conductor of the Chicago Symphony Chorus under the direction of Margaret Hillis, her teacher and mentor. As Music Director and Conductor of the celebrated Glen Ellyn Children's Chorus, Rao prepared her young singers for concerts, tours, and recorded performances that won four Grammy Awards and a Grand Prix du Disque under Sir Georg Solti, Margaret Hillis, and James Levine. Her choirs performed regularly with the St. Louis Symphony Orchestra under the direction of Leonard Slatkin and as invited guests of the Oregon Bach Festival for performances with Helmuth Rilling.

In the tradition of Leonard Bernstein's Young People's Concerts, Doreen Rao's innovative Sing with the Symphony school concerts were introduced by the Toronto Symphony Orchestra during their 1994-95 season to actively involve student and family audiences in listening as performers. In past seasons Rao conducted similar programs with the Regina Symphony and North York Symphony Orchestras on their regular subscription series. For Newfoundland's First International Festival 500 Rao conducted the world premiere of Gary Kulesha's Crossings.

Recognized as one of the world's leading experts on young choirs, Doreen Rao founded the American Choral Directors Association's National Committee on Children's Choirs and inspired the children's choir movement in America. In a pioneering career of "firsts" Rao has conducted honor choirs, all-state choirs, festival choirs, and all-world choirs for numerous national and international conferences and audiences around the world. In a national tribute presented to her by the American Choral Directors Association the eminent American conductor Robert Shaw wrote: The world of choral music owes her special thanks. She is preparing our future. Canadian Journalist Bronwyn Drainie described Doreen Rao as "a brilliant artist and teacher. . . whose methods and materials could re-energize the art of singing in our schools."

Drawing on her performance experience, teaching expertise, and research efforts Doreen Rao's Choral Music Experience concept of music performance as music education serves as the theoretical foundation of her influential publications including her choral textbooks and her extensive choral music series which she advised and edited for Boosey & Hawkes from 1987 until 2018. Dedicated to the art of choral singing and the future of music education, Doreen Rao founded the CME Institute for Choral Teacher Education, an international professional development and research center for teachers, conductors, scholars, and composers.

Dr. Rao is the recipient of numerous honors and awards including the 1997 Phi Mu Alpha Sinfonia National Citation for her significant and lasting contribution to the cause of American music.. She has been honored by the YWCA as Outstanding Leader in the Arts and Culture, by her colleagues of the American Choral Directors Association for her commitment to choral excellence, and by a CBS television documentary calling her musical achievements "extraordinary".