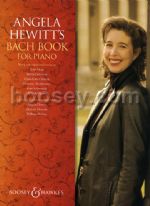 description: Piano
ISMN 9790060122583
ISBN 978-0-85162-625-3
Publisher Boosey & Hawkes (London)
Availability: Stock Title
Level of Difficulty: Various
Leading Bach pianist Angela Hewitt has assembled a new book of music paying tribute to the ultimate Baroque master.

The new Bach Book is a successor to Harriet Cohen's dating from 1932, collecting arrangements from leading composers of her day which Cohen then toured in concert. Hewitt's book includes two of the original arrangements – by Walton and Howells – together with her own transcriptions of three organ chorale preludes from Bach's Orgelbüchlein and six new works commissioned by the Wigmore Hall from contemporary composers Brett Dean, Robin Holloway, Elena Kats-Chernin, Dominic Muldowney, Kurt Schwertsik, and Yehudi Wyner.

Angela Hewitt describes how "it seemed a wonderful idea to ask composers of my time to write short pieces inspired somehow by Bach. I didn't stipulate more than that, except that they shouldn't be too long and that they could be either something totally new or else a transcription… Whereas Harriet Cohen's Bach Book was very much a British affair, my own is distinctly international. There are new works from the Australian Brett Dean, Elena Kats-Chernin (born in Tashkent in Uzbekistan), Kurt Schwertsik from Vienna, and Robin Holloway from England."

Angela Hewitt's Bach Book is dedicated to the memory of Michael Steinberg who first suggested to the pianist the idea of commissioning new works inspired by Bach.

Contents

01. B. Dean: Prélude and Chorale
02. J.S. Bach: Herzlich tut mich verlangen
03. K. Schwertsik: Fantasia & Fuga, op. 105
04. R. Holloway: Partitina: on the opening notes of J.S. Bach's "Goldberg" bass
05. J.S. Bach: O Mensch, bewein dein Sünde gross
06. Y. Wyner: Fantasia on BACH
07. J.S. Bach: Wenn wir in höchsten Nöten sein
08. J.S. Bach: Das alte Jahr vergangen ist
09. D. Muldowney: Fantasia on BACH
10. E. Kats-Chernin: Bach Study
11. J.S. Bach: Alle Menschen müssen sterben
---
Press Reviews
"For the generation following that of her fellow Canadian Glenn Gould, Hewitt has become almost synonymous with Bach on the piano" (reviewing the Bach Book concert at the Wigmore Hall, London, November 2010).
"Weaved around lay the real Bach, glorious and unfiltered. Sunshine radiated from Hewitt's crisp dispatch of the English Suite No 4; steely power pervaded the C minor Toccata, BWV 911. Best of all, the three-part Inventions shook off the pedagogical corset to become shimmering delights of dancing colours, topped by pure, bleak tragedy. A classy night" (reviewing the Bach Book concert at the Wigmore Hall, London, November 2010).
"Matched in their delicacy by the thundering heft of the C minor Toccata, the evening was rounded off by a transcription of Bach's Wachet auf, ruft uns die Stimme. Outside the confines of the official programme there was a delightful sense of off-duty excess, culminating in a final cadence and climactic ritenuto worthy of Classic FM" (reviewing the Bach Book concert at the Wigmore Hall, London, November 2010).
[Tell us what you think]