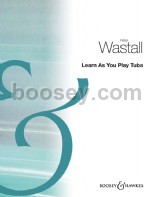 Wastall, Peter - Learn As You Play Tuba
Instrumentation: Tuba
ISMN 9790060065880
ISBN 9781784540920
Publisher Boosey & Hawkes (London)
Availability: Stock Title
Level of Difficulty: Beginner
The award winning wind and brass tutor series. Learn As You Play provides everything you need from the first lesson upwards. A well structured course of exercises, studies and pieces ensures a good grounding in technique and musicianship. Also available in Dutch, French, German and Spanish language editions.


Contents

A Little Etude (Diabelli)
A Little Piece (Gurlitt)
A Little Piece (Schumann)
A March of Joy
A Melody in Phrygian Mode (Bartok)
A Syncopated Duet (Garnier)
Aberdeen
Ah Vous Dirai-je, Maman
Air (Gretry)
Andante (Gurlitt - arr.Wastall)
Aria (Handel)
Aria 'O Isis and Osiris' (Mozart)
Branle (Chedeville)
Branle de Champagne (Gervaise)
Cantilena (Balazs)
Chanson de Nuit
Chorale
Contredanse (Haydn)
Corumba (Wastall)
Coventry Carol
Duetto (Boismortier)
Duetto in G Minor (Devienne)
Duo (Bortniansky)
Duo (Garnier)
Duo (Niessel)
Duo in G Minor (Chedeville)
Duo No. 2 (Niessel)
Ein' Feste Burg (Luther)
Ellacombe
Etude (Diabelli)
Fanfare (Chedeville)
Ffigysbren
Gagliarda (Frescobaldi)
German Dance (Beethoven)
German Hymn (Pleyel)
Integer Vitae (Flemming)
Jimbo's Lullaby (Debussy)
Land of Our Fathers
Larghetto (Mozart)
Le Petit-Rien (Couperin)
Let's Beguine (Wastall)
Lullaby (Schubert)
Make Mine a Tuba (Norton)
March (Chedeville)
March (Hyde)
Marmotte (Beethoven)
Mexican Madness (Wastall)
Nutfield (Monk)
Promenade (Hyde)
Quick Dance (Bogar)
Romance (Cole)
Serenade (Diabelli)
Shore's Trumpet Tune
Soldier's March (Schumann)
Solstice (Cole)
St. Anthony Chorale (Haydn)
Study No. 1 (Niessel)
Study No. 2 (Niessel)
Study No. 3 (Niessel)
The Emperor of Germany's March (Clarke)
The Merry Peasant (Schumann)
Third Mode Melody (Tallis)
Tuba Stomp (Wastall)
Tuba Talk (Hyde)
Waltz (Schubert)
---
There are currently no reviews for this product.
Tell us what you think