Performer Picks: Kirill Karabits's top Boosey & Hawkes works
(June 2021)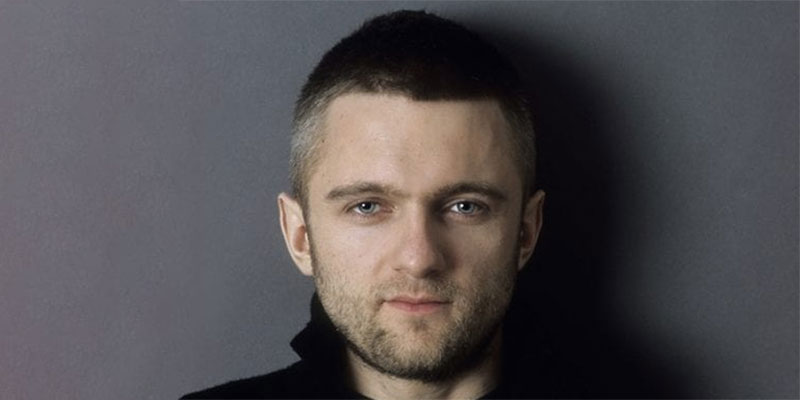 > Listen to Kirill Karabits's "Performer Picks" Playlist on Spotify
1. John Adams: Short Ride in a Fast Machine (1986)
John Adams is one of my favourite composers but I've chosen this piece because of a special characteristic that makes it such a wonderful start to a concert. It's one of the greatest examples for me of a piece of orchestral music when, if you are a master composer, you don't need a long time to say what you want to say. You can express yourself in three and a half minutes and tell everything about your style of writing, how you orchestrate, the energy that you are getting out of a symphony orchestra, the drive that you create by using orchestral colours. It provides the world of Adams in three and a half minutes. And that's it. I think it's one of the best openers ever written.
2. Aram Khachaturian: Spartacus (1954, rev.1968)
I conducted music from Khachaturian's Spartacus for the first time around 2005 when I was Associate Conductor with the Orchestre Philharmonique de Radio France, selecting highlights from the ballet to create a suite to fill the second half of a concert. Since then I've conducted this Spartacus selection more than any other piece, perhaps 15 times. The reason why I like it so much is because it has two qualities which are very exciting for me. Firstly it seems familiar to audiences, perhaps because of the famous Adagio which was the theme tune of the TV series The Onedin Line, so they are encouraged to come to the concert. Secondly I can take the listeners on a journey of discovery because they don't know the rest of the music. My mission as a conductor is to make people become different after having listened to something and Spartacus is the piece for that.
Khachaturian's music is so vivid that it captures people's imaginations, almost as if you have film visuals. It's all scenes and scenery, but the good thing about not having the ballet on stage is that you can imagine your own story. I shouldn't be saying this but I think Spartacus, the same as The Rite of Spring, functions better without the dancers. You don't have one viewpoint imposed upon you and it's possible to imagine your own ballet. Spartacus is also a great source of encores. I have up to three prepared, depending on the audience. So, if the reaction is really warm, they get the full package. And then with each encore the atmosphere lifts in the hall. I like that energy very much.
> Listen to music from Khachaturian's Spartacus
3. Avet Terteryan: Symphony No.3 (1975)
Terteryan's Third Symphony provided me with one of the most unusual and deepest experiences I have had in my life as a conductor. I first heard it as a youngster at a concert in Kiev and I remember Terteryan being there. Since then I was waiting for the right moment in my life to be able to touch that score. It came when I was conducting the I,CULTURE youth orchestra formed from seven countries of the former Eastern bloc, including Armenia, Georgia and Ukraine. This was the perfect place to try the piece out, rather than with an established orchestra that might have been scared by the many unusual aspects. It was amazing and the performance is captured on YouTube and is still attracting likes and enthusiastic comments.
One reason the symphony is so extraordinary is its use of two Armenian folk instruments, the duduk and the zurna. This exotic mixture of a modern orchestra with instruments from Armenia is very interesting. There are many moments when Terteryan is experimenting with colours, and those where he holds single notes for long durations so you have the feeling that time stops. And then there is the extreme contrast between delicate and soft passages and the loudest unpredictable explosions when the full power of the orchestra is used with wild brutality. Altogether it is a thought-provoking and fantastic piece of music.
> Watch I,CULTURE's performance on YouTube
4. Boris Lyatoshynsky: Symphony No.3 (1951-55)
Lyatoshynsky's music is very important to me as a Ukrainian and also has a personal significance. My father was a major composer in our country and studied orchestration with Lyatoshynsky, so I soon became aware that Lyatoshynsky is the key figure in Ukrainian symphonic music, certainly in the 20th century and perhaps generally. I'd describe his style as similar to Shostakovich in some aspects and to Britten in other ways, but you can also hear the heritage of Mussorgsky and Scriabin – it is a unique blend and I'm pleased it is now being recognised outside Ukraine.
So I've made it my mission to perform and record Lyatoshynsky's music and I propose it regularly to orchestras whenever they want to discover something new. And the response has always seemed positive. When I conducted the third with the Bournemouth Symphony Orchestra in the UK it was very satisfying to read the major London newspapers asking why have we never heard of this composer and why is the music not played more often? That's all I was aiming for.
> Listen to Lyatoshynsky's Symphony No.3
5. Serge Prokofieff: Autumn (1910, rev.1915/34)
I got to record Prokofieff's Autumn in a series with the Bournemouth orchestra where we coupled his symphonies with very early works that he composed when he was a student. It was fascinating to see his development because he started as a kid – he'd written an opera and then wrote a symphony when he was 11 – he was a real Wunderkind. This piece was also personally interesting for me because Prokofieff was born in what is now the Ukraine, and his music is full of ideas that come from that region in Donetsk Oblast where he was born.
In Autumn you can hear some Rimsky-Korsakov and Rachmaninoff and there is also some French influence, but it definitely belongs to the tradition of Russian music. It also reflects what his life was going through as it is a response to the death of his father. He wasn't writing a funeral song, but rather using the idea of Autumn and things that finish but can grow into something else. That was a connection I tried to follow linking his very early compositions to the later works we know.
> Listen to Prokofieff's Autumn
6. Dmitri Shostakovich: Symphony No.1 (1923-25)
I wanted to pick all of Shostakovich's symphonies but if I have to choose just one it would be his first. It is thrilling to view this young man at the age of 19 and to realise how uniquely talented and gifted he was. He already experiments with the form and incorporates a number of tricks and jokes, such as the second movement's 'false start' for the cellos and basses when they don't come in together. Symphony No.1 is sometimes regarded as a lesser work than No.5 or No.10 and is a little forgotten, but for me it is a joy to conduct and makes you realise it is one of the most important symphonies of the 20th century.
I like to couple Symphony No.1 with a little encore, the Tea for Two arrangement known as Tahiti Trot. There is a famous story that Nikolai Malko, who conducted the premiere of the first symphony in Leningrad in 1926, challenged Shostakovich to orchestrate in an hour the famous tune by Youmans from No, No Nanette. Though in a room without a piano, Shostakovich won the 100 roubles bet, creating in under 45 minutes a beautifully orchestrated piece.
7. Benjamin Britten: Violin Concerto (1939, rev.1954/65)
Conducting British repertoire with a British orchestra is a challenging process for an overseas conductor and it took me some years to actually be able to say, yes, I can do any British piece now. At the start the orchestra never said anything or showed any mistrust but I knew I had to win them over musically and convince them that I truly like the works and have something fresh to say about them. Then it became a positive: when we did Enigma Variations or Walton Symphony No.1, the players said they liked the fact I didn't have to follow the normal tradition.
An important point on my journey with British music was conducting Britten's Violin Concerto and recording it with James Ehnes. It is a wonderful masterpiece which should be performed much more – I'd rank it in the top five violin concertos of all time. I've conducted it elsewhere since and I always enjoy the beautiful surge of colours and fantasy, its very fine and accurate orchestration, and its precise, clean and emotional lines. Britten has become close to me also because of his creative kinship with Shostakovich – it is as if they are different aspects of the same thing musically. They combine very well, for instance Britten's Violin Concerto with a Shostakovich symphony, or the Sinfonia da Requiem or Four Sea Interludes with a Shostakovich violin concerto, or a Britten piece with string orchestra together with Shostakovich's Symphony No.14 which was dedicated to Britten.
> Listen to Britten's Violin Concerto
8. Mark-Anthony Turnage: Testament (2017)
Of all the symphonic repertoire, Testament is a very special piece for me, as I was closely involved in the work's commission and creation. When Mark agreed to write the piece for the Bournemouth orchestra we spoke a lot about the Ukraine conflict, the present suffering of the people, and what Ukrainian poetry might best have a connection for a British composer. It is a wonderful piece, requiring an excellent singer, and I've conducted it now in Poole and Weimar and plan to do it many more times.
One of Mark's conditions from the very beginning was that the Ukrainian poetry would be translated into English, as he needed to understand every word. But I wanted the work also to have a Ukrainian version so, with Mark's permission, I've laid the original Ukrainian texts under the vocal line. It has had successful performances in both language versions but I'll particularly treasure the first performance which was a testament to the open-minded approach and hard work of the Bournemouth players, so that the composer was also very happy with the interpretation.
Photo: Konrad Kwik

Boosey & Hawkes Composer News