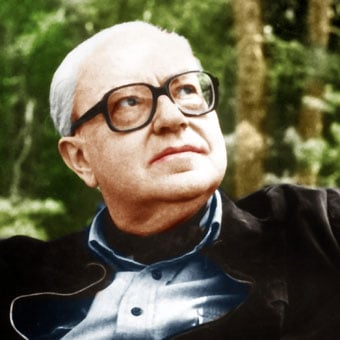 Alberto Ginastera
1916 - 1983
English
Deutsch
Español
An introduction to Ginastera's music
by Aurora Natola-Ginastera
I had the privilege of being the wife of one of the leading composers of our time, as well as both his muse and interpreter.
After three years of silence, Alberto Ginastera started composing again in 1971, the time of our meeting and marriage. This new period of composition began with the cantata Milena, a collage of the letters of Kafka to Milena which reflected in some way Alberto's own temperament—passionate, yet introverted.
His music began to evolve toward a new humanism and poetry. This development—evident in the Serenata op.42, the Third Quartet and his great masterpiece, Turbae ad Passionem Gregorianam op.43, which ends with a Deo Gratias and a hymn from the 6th century: Aurora lucis rutilat—culminates in the Cello Concerto No.2. It was written especially for me as an expression of his wish to create a work which celebrated our union, one of great happiness lasting twelve and a half years. Alberto's music was a precious gift to the twentieth century and his death signified a great loss for the artistic world.
Aurora Natola-Ginastera
---
An introduction to Ginastera's music
by Erick Carballo
Alberto Ginastera (b. Argentina, 1916 – d. Switzerland, 1983) is an archetypal result of his country's historic circumstances and artistic heritage. A mixture of Italian and Catalan ancestries, Ginastera's family is a characteristic example of the impact that the late nineteenth century immigration process had in his country; a process driven by governments which, in an attempt to populate the country's vast unoccupied lands, used gobernar es poblar (to govern is to populate) as one of their main directives. From a musical standpoint, Ginastera inherited the nationalistic trends of previous generations of composers and successfully integrated them into a distinctive personal voice that characterised his entire musical output.
His professional career started early in his life. In 1937, while still a student at the Conservatorio Williams, his suite Panambí was premièred at the Teatro Colón, the country's most important concert hall. By the time he was thirty, Ginastera had a significant number of compositions for solo instruments, orchestra, choir, and film scores which had situated him among the most notable living composers of his country.
In spite of his urban upbringing, Ginastera's personal identification was primarily with Argentina's rural life: the Argentine extensive plains, known as pampas, and their inhabitants, the gauchos. Ginastera combined the musical knowledge that he had collected from typical Argentine experience, musicology and folklore, and the repertoire of previous Argentine composers; yet he did not adhere strictly to any of the 'guidelines' that these experiences provided him. Instead, he assimilated into his own compositional style the characteristics that he felt were most important, mixing and often 'mislabelling' them intentionally. One clear example of this practice is Ginastera's treatment of the folk rhythms associated with gaucho music. He appropriated rhythms like the gato, zamba, and malambo, and employed his own composite versions of those rhythms. Ginastera's own versions of the malambo project an important dichotomy in the gaucho's personality often portrayed in the country's literature: the extrovert (festive, gregarious, and social) and the introvert (solitary, self-reliant, unlucky in life and love, and socially detached).
Through international travels and interactions with fellow composers, Ginastera's career continued to expand geographically at the time that his music grew stylistically. In 1945 he travelled to the USA where he visited important musical institutions on the East Coast, met with fellow composers, and worked under the tutelage of Aaron Copland in Tanglewood. Back in Argentina in 1947 he continued to compose while serving in academic and administrative posts. In 1962, he became the founding director of the Centro Latinoamericano de Altos Estudios Musicales (CLAEM). Under Ginastera's leadership, and with the support of the Rockefeller foundation, the CLAEM attracted young composers from throughout Latin America and teachers from the United States and Europe – Copland, Dallapiccolla, Davidovsky, Messiaen, Nono, and Xenakis among them.
Ginastera's stylistic growth was accompanied by the incorporation of established musical archetypes such as the sonata form within a four-movement work, concertos for solo instruments and orchestra, string quartets, and operatic works. It also included the assimilation of new musical idioms that at the time were considered modern: serialism, microtonalism, aleatory techniques. These compositional approaches led some scholars to deny the existence of any of the 'Argentine' traits that originally defined Ginastera's language; nevertheless, recent research has uncovered the existence of underlying, often well-disguised, gaucho traits even in some of his most "modern" pieces.
In the early 1970s, Ginastera and his second wife, Argentine cellist Aurora Natola, settled in Geneva, Switzerland. He composed, especially for her, several cello pieces and a second cello concerto in which the notion of 'love' projects as a constant. During his last compositions Ginastera turned back to the Americas. Even then, towards the end of his life, when asked about the status of his style he declared: '… at the moment I am evolving … This change is taking the form of a kind of reversion, a going back to the primitive America of the Mayas, the Aztecs, and the Incas. This influence in my music I feel as not folkloric, but – how to say it? – as a kind of metaphysical inspiration. In a way, what I have done is a reconstitution of the transcendental aspect of the ancient pre-Columbian world.'
Throughout this career Ginastera composed music in diverse styles, ranging from 'simple' triadic works to quartal, serial, palindromic, and aleatoric musics; ultimately combining all of these techniques. Moreover, he succeeded in absorbing the trends of previous generations of Argentine composers and integrating them into a distinctive personal language. It is precisely the masterful amalgamation of all these heterogeneous elements that makes Alberto Ginastera a major figure of twentieth century music.
Erick Carballo
Bestselling Titles by Alberto Ginastera