Reich & Korot's Three Tales: on CD/DVD
(November 2003)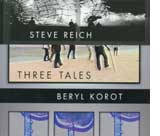 Reich & Korot's Three Tales: special CD/DVD release
Andrew Clements reviews the new Nonesuch recording of Reich and Korot's Three Tales, combining DVD and CD





The Guardian (17 October  2003)


There is nothing else quite like Steve Reich and Beryl Korot's Three Tales, first seen in its final form in May last year. "Video opera" is a useful shorthand for describing the work's fusion of images and live music. But "opera" implies a degree of drama that neither the music, nor the visuals, attempts to meet. The video and the score are inseparable, though, and the result is a kind of musical documentary. Nonesuch has packaged the work as a two-disc set: the soundtrack - Reich's music and the soundbites and interviews that provide its musical sources as well as its philosophical and political dialectic - is on CD, while the DVD has the complete work, images and score wedded.


Three Tales takes in a wide sweep of 20th century technology, exploring three very different events - the construction and destruction of the airship Hindenberg in 1937, the first tests of the hydrogen bomb on Bikini Atoll in 1946, and finally the cloning of Dolly the sheep in 1996. The three movements get progressively weightier, more discursive, more visually inventive: Hindenberg is essentially a potted history of the events via newsreel footage and a motoric musical accompaniment; Bikini looks more closely into the effects and implications of the tests, while Dolly takes the cloning as the springboard for a much wider examination of genetic engineering and its implications for humankind.


Korot's images provide the increasingly virtuoso surface - the images in Dolly especially are quite dazzling - while Reich's music provides the binding structure, and the proportioning of the whole 65-minute work. It moves from Niebelheim-like hammerings and martial rhythms as the Hindenberg is built, through menacing countdowns and prayer-like reflectiveness in Bikini, to the explosion of inventiveness and exuberance in Dolly with speech rhythms and melodies feeding back between the talking heads like Richard Dawkins, Stephen Jay Gould and James Watson on video, and the music of the live singers and instrumentalists.


Though it's possible to connect the processes in Three Tales to Reich's earlier techniques in City Life and the string quartet Different Trains, this piece represents a quantum leap in complexity and technological achievement, and no other musical work I know comes near its imaginative synthesis. It is unique, and seems all the more extraordinary the more you watch and hear it.


Reproduced by kind permission of The Guardian and Andrew Clements.

Boosey & Hawkes Composer News