Music by composers who were persecuted, murdered and driven into exile features prominently in the catalogue of Boosey & Hawkes / Bote & Bock. Click here to download a PDF document (approx. 700 KB) featuring a comprehensive index of composers and their works.

Go to www.boosey.com/Terezin to find out more about music at the Theresienstadt concentration camp, including works by composers interned in the camp, such as Pavel Haas, Gideon Klein and Hans Krása.

---

Teachers of the Swiss-born American (1880 – 1959) included Emile Jacques-Dalcroze and Eugène Ysaÿe. Banned by the Nazi regime, his works are in a late Romantic vein, and were often inspired by Jewish liturgy and folk music. Important works include hisConcerto Symphonique for piano and orchestra, Suite Symphonique for large orchestra, a Violin Concerto written for Joseph Szigeti and theString Quartet No.2.

(1890 – 1987) enjoyed great success as a composer in the 1920s. Following the annexation of Austria by Nazi Germany, he emigrated to Great Britain where he was interned in 1940, regarded as an 'enemy alien' like many others. In the years that followed he helped to launch the Edinburgh Festival and became a lecturer at Edinburgh University. His extensive list of works includes his Sinfonia Concertante, Tryptich for orchestra and a Trio for violin, clarinet and piano.

(1896 – 1970) was Spain's first composer of twelve-tone music. When the Republicans were defeated in the civil war, he emigrated to Paris and then to Great Britain, where his music was slow to be recognised. His works from the 1940s, such as the Ballet Don Quixote or the opera The Duenna, are an effective combination of his native Catalan folk culture with his own individual serial techniques. Other important works by Gerhard include his Violin Concerto and Symphony No.1.

After years of exile in London, Goldschmidt (1903 – 1996) abandoned composition altogether. It wasn't until the 1980s that his works again found an audience, which in turn encouraged him to resume composing. As a result, the restaging of Der gewaltige Hahnrei met with a similar degree of success as it did after its premiere in 1932. Other important works are his Ciaccona Sinfonia, String Quartet No.2 and the Violin Concerto.

Together with Max Reinhard, with whom he had collaborated on a new version of Offenbach's La Belle Hélène in 1931, Korngold (1897 – 1957) went to Hollywood where he wrote compelling film scores, such as The Sea Hawk or The Adventures of Robin Hood, as well as his Violin Concerto, which has met with renewed popularity in recent years.

Having survived the Holocaust as a member of the camp orchestra in Auschwitz, Laks (1901 – 1983) commemorated these events in a book. After 1945 he was unable to continue the successful beginnings of his career as a composer in Paris. However this did not stop him from producing such moving works as his String Quartet No.3, Poème for Violin and Orchestra and the opera L'Hirondelle inattendue.

(1923 – 2016) emigrated to Ecuador in 1939 and then studied composition with Roger Sessions, Stefan Wolpe and Ralph Shapey. Her personal use of Schönberg's 12-tone-method, with complex rhythms and varying sound-colours can be heard in works like the Oboe Concerto (2003), Grasshoppers – 6 Humoresques for large orchestra (1957), Cantata (Psalm I) for voices and piano/organ (1958) or her Wind Quintet (1956). After having lived and worked for decades in the US, she returned to her birth town Berlin in 2006.

A student of Nadia Boulanger, Markevitch (1912 –1983) wrote idiosyncratic works such as a cantata based on Cocteau, La Taille de l'Homme and a ballet using quarter tones, L'Envol d'Icare. In Italy Markevitch was an active member of the resistance against the German invasion of 1943. In the 1940s he abandoned composition and made conducting his main occupation. The last years of his life saw a revival of his works, such as his oratorio Le Paradis Perdu and Lorenzo il Magnifico.

The greatest Czech composer of the 20th century, Martinu (1890 –1959), received essential impulses in Paris, to which works such as his opera Julietta and the Double Concerto bear witness. On two occasions it was impossible for him to return to his home country: first, when Nazi Germany was permitted to occupy Czechoslovakia's Sudetenland by the Munich Agreement of 1938 and then, after the War, when the Communists came to power in Czechoslovakia. Works written in his US exile in the 1950s, such as his Fantaisies symphoniques anticipate aleatoric soundscapes or draw on the traditions of Moravian folk music.

Franz Schreker's favourite pupil, Rathaus (1895 –1954), impressed audiences with, among other works, his film scores. Branded as a 'degenerate' and banned by the Nazi regime, he escaped to London via Paris before settling as a teacher and composer in New York. In exile he produced substantial orchestral works in the idiom of late Romanticism, such as his Louisville Prelude and Vision dramatique, as well as his Symphony No.3 and Piano Concerto Op.45.

(1905 – 1960) studied in his home town Budapest with Kodaly and received strong influences from American jazz music; directed the first academic jazz class anywhere, which was then closed down by the Nazi authorties. In 1935, Seiber emigrated to Great Britain where he taught composition. Works: the Transylvanian Rhapsody for orchestra, Yugoslav and Greek Folk Song Arrangements for chorus resp. with piano/orchestra accompaniment.

During his lifetime, Schreker (1878 –1934) was considered the greatest German opera composer besides Strauss. As a teacher, he influenced a whole generation of composers. Targeted by anti-Semitic Nazi agitation early on, he died shortly after being forced into early retirement. A Schreker renaissance in the 1980s brought many of his works back onto opera stages and into concert halls, including his opera Flames and the melodrama The Wife of Intaphernes, as well as his Symphony Op.1.

A pupil of Anton Webern, Spinner (1906 – 1980) worked as a copyist, arranger and eventually editor for Boosey & Hawkes following his emigration to England. Creating a musical idiom that enriched postwar serialism, his substantial output is yet to be fully discovered. His Piano Concerto, Richercata and the Quintet Op.14 number among his most important works.

(1911 – 2000) survived the Warsaw Ghetto in the underground. When Roman Polanski turned his memories into the film The Pianist in 2002, both Szpilman's recordings as a pianist and his compositions were rediscovered. Apart from about 500 popular songs, the 'Polish Gershwin' wrote works such as his Concertino for piano and orchestra and the piano suite "The Life of the Machines".

Emigrating from Russia in 1918, Vogel (1896 – 1984) became a music critic and teacher in Berlin. Forced to leave Germany in 1933, he lived in Switzerland from 1964. He was a pupil of Busoni and developed an idiosyncratic twelve-tone technique in his compositions. In his choral compositions, such as the Gotthard Cantata or Jona ging doch nach Ninive, he paved the way for the modern speaking choir. Other important works by Vogel are the Four Etudes for orchestra and his Concerto per Violino ed Orchestra.

A student of Robert Fuchs and Guido Adler, Weigl (1881 – 1949) co-founded the "Vereinigung schaffender Tonkünstler" with Schönberg and Zemlinsky. His emigration to the United States in 1938 made it impossible for him to continue the success of the interwar years, a time when he had been one of the central figures of musical life in Vienna. His works are marked by an emotional style in the Mahler tradition; among them are his Violin Concerto, Music for the Young for chamber orchestra, as well as Rhapsody for piano and orchestra and his Symphony No.6.

While his opera Schwanda the Bagpiper has remained a firm favourite among audiences right up until the present day, other works that Weinberger (1896 – 1967), a pupil of Reger's, composed after emigrating to America, are less well-known, such as his Préludes réligieux et profanes or his orchestra variations Under the Spreading Chestnut Tree. In his music Weinberger never ceased to explore his Czech roots; haunted by the painful memories of his earlier life, he suffered from depression for many years, finally taking his own life. Most recently, his operetta Frühlingsstürme (Springs Storms) was succesfully revived.

Forced in 1938 to give up his post as a professor in his home city, Vienna, Wellesz (1885 – 1974) emigrated to England, where he stayed for the rest of his life, only interrupted by stints as a lecturer in the USA and Edinburgh. A pupil of Schönberg, he developed his own approach to compositional style, amalgamating expressionist, neo-classical and archaic elements. In Vienna in 1931 Clemens Krauss staged a highly successful production of Wellesz's magnum opus, the two-act choral opera Die Bakchantinnen.

(1901 – 1991 was deported to Terezín in 1945 and worked for Bavarian Radio and the Richard Strauss Conservatory after WWII. His highly personal compositional style fuses the polyrhythms of the Bohemian-Moravian tradition with contemporary trends such as dodecaphony, polytonality and impressionism. Works like his Sinfonia drammatica (Symphony No.1), Piano Concerto No.1 or Suite Theresienstadt for piano have been played and or on radio during his lifetime, but never published, and are now being made accessible again.

---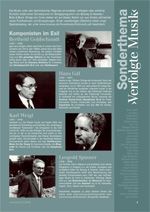 Please download our four-page flyer 'Suppressed Music' (PDF file, c330KB, in German language), published in spring 2008 as enclosure to our house magazine "nota bene", with composer profiles, background info, work lists and recent music publications and recordings.