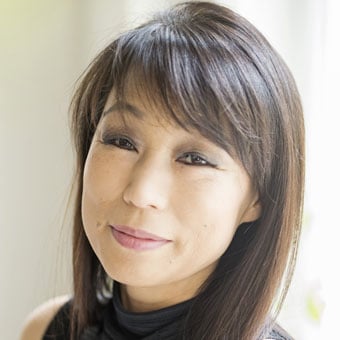 Unsuk Chin
b. 14 July 1961, Seoul, Korea
Short Biography:
Unsuk Chin was born in 1961 in Seoul, South Korea. She studied with Sukhi Kang and György Ligeti and has lived in Berlin since 1988. Her music has attracted the attention of international conductors including Simon Rattle, Gustavo Dudamel, Alan Gilbert, Kent Nagano, Esa-Pekka Salonen, David Robertson, Peter Eötvös, Myung-Whun Chung, George Benjamin, Susanna Mälkki, Jukka-Pekka Saraste, François-Xavier Roth, Leif Segerstam, Hannu Lintu, Jakub Hrusa, Kazushi Ono and Ilan Volkov, among others. It is modern in language, but lyrical and non-doctrinaire in communicative power. Chin has received many honours, including the 2004 Grawemeyer Award for Music Composition for her Violin Concerto, the 2005 Arnold Schoenberg Prize, the 2010 Prince Pierre Foundation Music Award, the 2012 Ho-Am Prize, the 2017 Wihuri Sibelius Prize, the 2019 Hamburg Bach Prize, the 2020 Kravis Prize as well as the 2021 Leonie Sonning Music Prize.
She has been commissioned by leading performing organisations and her music has been performed in major festivals and concert series in Europe, the Far East, and North America by orchestras and ensembles such as the Berlin Philharmonic, Chicago Symphony Orchestra, London Philharmonic Orchestra, Philharmonia Orchestra, Leipzig Gewandhaus Orchestra, BBC Symphony Orchestra, New York Philharmonic, Boston Symphony Orchestra, City of Birmingham Symphony Orchestra, Orchestre Philharmonique de Radio France, Gothenburg Symphony, Los Angeles Philharmonic Orchestra, Swedish Radio Symphony Orchestra, Tokyo Symphony, Sao Paulo Symphony Orchestra, Royal Concertgebouw Orchestra, London Sinfonietta, Royal Stockholm Philharmonic, Ensemble Intercontemporain, Ensemble Modern, Kronos Quartet and Arditti Quartet. In addition, Unsuk Chin has been active in writing electronic music, receiving commissions from IRCAM and other electronic music studios.
In 2007, Chin's first opera Alice in Wonderland was given its world première at the Bavarian State Opera as the opening of the Munich Opera Festival and released on DVD and Blu-ray by Unitel Classica. She has been Composer-in-Residence of the Lucerne Festival, the Festival d'Automne, Stockholm International Composer Festival, Deutsches Symphonie-Orchester Berlin, the Cologne Philharmonic's Eight Bridges festival, the São Paulo Symphony, Casa da Música, BBC Symphony's Total Immersion Festival, Melbourne Symphony, the NDR Elbphilharmonie Orchestra in Hamburg, and many more. Between 2006 and 2017 Chin was Composer-in-Residence with the Seoul Philharmonic Orchestra, overseeing its contemporary music series which she founded. She served as Artistic Director of the 'Music of Today' series of the Philharmonia Orchestra in London for nine seasons between 2011 and 2020. In 2022 she starts a five year tenure as Artistic Director of the Tongyeong International Festival in South Korea and her Artistic Directorship of the Weiwuying International Music Festival in Taiwan. Portrait CDs of her music have appeared on Deutsche Grammophon, Kairos and Analekta.
Unsuk Chin's works are published exclusively by Boosey & Hawkes.
September 2021
Full Biography:
Unsuk Chin was born in 1961 in Seoul, Korea. She began to teach herself piano and music theory at an early age and subsequently studied composition at the Seoul National University with Sukhi Kang. An ensemble composition of hers was selected for the 1984 ISCM World Music Days in Canada, and in 1986 for the UNESCO 'Rostrum of Composers.' In 1985 Chin won the first prize of the Gaudeamus Foundation in Amsterdam with Spektra for three celli, her university graduation work. In the same year she moved to Europe after receiving an academic exchange grant to study in Germany, and until 1988 took composition lessons at the University for Music and Theatre in Hamburg with György Ligeti, who encouraged her to look beyond the aesthetics of the current avant-garde. After completing her studies with Ligeti in 1988, Unsuk Chin moved to Berlin and worked as a freelance composer at the Electronic Music Studio of the Technical University of Berlin, where she realized several works over the following decade.
Already in Trojan Women for three female singers, female chorus, and orchestra, based on Euripides' play, composed in 1986 and premiered in 1990 at the ISCM World Music Days by Bergen Philharmonic Orchestra, Chin's original style was fully evident: music, which is modern in language, but lyrical and non-doctrinaire in communicative power. However, it was Akrostichon–Wortspiel (Acrostic-Wordplay) (1991-93) for solo soprano and ensemble, a piece, which has been programmed in over 20 countries to date by leading international ensembles, which marked Chin's international breakthrough.
In 1992 Unsuk Chin was selected by the Reading Panel of the Ensemble Intercontemporain in Paris to write Fantaisie mécanique in 1994, the first of six works to date commissioned by this ensemble. In 1993 Chin was awarded first prize at the Competition for Orchestral Works to Commemorate the Semicentennial of the Tokyo Metropolitan Government for her orchestral work santika Ekatala, and in 1997 first prize for Contemporary Piano Music at the Concours International de Piano d'Orléans for her Piano Etudes. Other works from the 1990s include Xi and Double Concerto, both commissioned by Ensemble Intercontemporain, ParaMetaString, commissioned by the Kronos Quartet, Piano Concerto, commissioned by the BBC for the BBC National Orchestra of Wales, and Miroirs des temps, commissioned by the BBC for The Hilliard Ensemble and the London Philharmonic Orchestra. The premiere of the latter in 2000 marked the beginning of a collaboration with Kent Nagano, one of the principal champions of Chin's music. In 1999, Unsuk Chin's music was featured by the Philharmonia Orchestra in London within the contemporary music series 'Music of Today'. In 2000, Piano Etude No.6 (Grains) was commissioned by the Southbank Centre on the occasion of Pierre Boulez's 75th birthday. Xi for ensemble and electronics, which was premiered by Ensemble Intercontemporain and David Robertson in Paris and performed during their US tour in 1999, was awarded first prize at the Bourges International Competition for Electroacoustic Music in 2000.
Chin was composer-in-residence with the Deutsches Symphonie-Orchester Berlin in 2001/02, culminating in the commission of a Violin Concerto, premiered in January 2002 with Viviane Hagner as soloist and Kent Nagano as conductor, for which she was awarded the prestigious Grawemeyer Award in 2004. The concerto has since been performed in 16 countries in Europe, Asia, and North and South America.
The noughties saw the creation of three large-scale vocal works: Kalá for soloists, chorus, and orchestra, which was co-commissioned by the Danish Radio Symphony, the Gothenburg Symphony and Oslo Philharmonic Orchestras, and premiered under the baton of Peter Eötvös in March 2001 in Gothenburg; snagS & Snarls (2003-04) for soprano and orchestra was commissioned by Los Angeles Opera; Cantatrix Sopranica (2004-05) for two sopranos, countertenor, and ensemble, released on CD by Wergo and co-commissioned by the London Sinfonietta, Los Angeles Philharmonic New Music Group, St. Pölten Festival (Austria), Ensemble Intercontemporain, and Ensemble musikFabrik.
In 2005, Unsuk Chin's Violin Concerto was performed three times by Christian Tetzlaff and the Berlin Philharmonic under the baton of Sir Simon Rattle. In the same year, she was awarded the Arnold Schoenberg Prize in Vienna and her first portrait CD was released by Deutsche Grammophon in their 20/21-series, celebrating ten years of collaboration with the Ensemble intercontemporain. A re-release of this CD was brought out by Kairos in 2011.
Between 2006 and 2017 Chin was Composer-in-Residence with the Seoul Philharmonic Orchestra, overseeing its contemporary music series which she founded. Her opera Alice in Wonderland received its world premiere on 30 June 2007 at the Bavarian State Opera in Munich as the opening performance of the Munich Opera Festival. The production, directed by Achim Freyer and conducted by Kent Nagano, was named 'World Premiere of the Year' in the annual survey of European opera critics published in the yearbook of Die Opernwelt and ranked on the Los Angeles Times "Best of 2007" list. A DVD of this production was released by Unitel Classica. Since then, Alice in Wonderland has been staged in Geneva, Bielefeld, and in a new reduced orchestration in Saint Louis, Los Angeles and London.
In 2007, Chin was awarded the Heidelberger Künstlerinnenpreis and the awards of the Kyung-Ahm Foundation and the Daewon Foundation in South Korea. Several contemporary music festivals focused on her music: MITO Settembre Musica in Italy, Festival Musica Strasbourg, MADE Festival in Sweden and the festival of the Royal Northern College of Music in Manchester. In 2007, Unsuk Chin composed Double Bind? for violin and live electronics at IRCAM in Paris. She returned there in 2011 to write Fanfare chimérique, a piece for two spatially distributed wind ensembles and electronics, for Ensemble Intercontemporain. Rocaná for orchestra (2008) was jointly commissioned by Montréal Symphony Orchestra, the Bayerische Staatsoper, the Beijing Music Festival Arts Foundation, and the Seoul Philharmonic Orchestra. Among other occasions, it was performed in 2008 by the Montréal Symphony Orchestra during its US tour in Carnegie Hall and also four times by the Chicago Symphony Orchestra.
In 2009 Chin was Composer-in-Residence at the Philharmonie in Essen and composed two concertos: a Cello Concerto, commissioned by the BBC and written for Alban Gerhardt, was premiered at the BBC Proms in the Royal Albert Hall and received the British Composer Award in 2010; Šu for sheng (chinese mouth organ) and orchestra, commissioned by Suntory Hall Tokyo, ZaterdagMatinee, Los Angeles Philharmonic and Philharmonie Essen, was written for the world's leading sheng player Wu Wei. Cello Concerto was also performed three times by the Boston Symphony Orchestra in 2011 under the baton of Susan Mälkki, and Šu was programmed in three of four of Gustav Dudamel's inaugural concerts with the Los Angeles Philharmonic.
Gougalon – Scenes from a Street Theatre, a commission of Siemens Arts Program and Ensemble Modern, was premiered in Berlin in 2009 and awarded the Music Composition Prize of the Fondation Prince Pierre de Monaco in 2010. An expanded version of Gougalon has been commissioned by Ensemble Intercontemporain and was first performed in January 2012 in Paris. In 2009, a portrait CD including Rocaná and Violin Concerto, performed by Viviane Hagner, Kent Nagano and Montréal Symphony Orchestra, was released by Analekta and was nominated for the Midem Classical Award in 2010. The Seoul Philharmonic Orchestra and their Chief Conductor Myung-Whun Chung performed Violin Concerto and Šu during their European Tour in 2010 in Germany, Russia, Italy and Czech Republic, and recorded the Piano Concerto, Cello Concerto and Šu for release by Deutsche Grammophon in 2014, with Sunwook Kim, Alban Gerhardt and Wu Wei as soloists. In 2010, Unsuk Chin was announced by Esa-Pekka Salonen as new Artistic Director of the Philharmonia Orchestra's Music of Today series in London, a position she held for nine seasons between 2011 and 2020.
In 2011, the BBC Symphony Orchestra's Total Immersion Day at London's Barbican Centre focused on her music. In 2012 Unsuk Chin was awarded the Ho-Am Prize, the most prestigious within the arts sector in Korea. Graffiti for chamber orchestra was composed for the Los Angeles Philharmonic and Gustavo Dudamel in 2013, a Clarinet Concerto was premiered by Kari Kriikku in 2014, Le Silence des Sirènes was commissioned by Roche for soprano Barbara Hannigan and the Lucerne Festival Academy Orchestra conducted by Simon Rattle in 2014, and Mannequin for orchestra was premiered in 2015. Recent works include Chant des Enfants des Étoiles for choirs and orchestra, premiered within the inaugural events at the Lotte Concert Hall in Seoul in 2016, Chorós Chordón toured to the Far East in 2017 by the Berlin Philharmonic under Simon Rattle, the concerto for orchestra SPIRA premiered by the Los Angeles Philharmonic under Mirga Gražinyte-Tyla in 2019, and the Beethoven-inspired orchestral concert-opener subito con forza that has travelled widely since its premiere in 2020. Unsuk Chin was awarded the Wihuri Sibelius Prize in 2017, the Hamburg Bach Prize in 2019, the Kravis Prize in 2020, and the Leonie Sonning Music Prize in 2021. In 2022 Unsuk Chin starts a five year tenure as Artistic Director of the Tongyeong International Festival in South Korea and her Artistic Directorship of the Weiwuying International Music Festival in Taiwan.
Unsuk Chin has been published exclusively by Boosey & Hawkes since 1994.
September 2021
This biography can be reproduced free of charge in concert programmes with the following credit: Reprinted by kind permission of Boosey & Hawkes