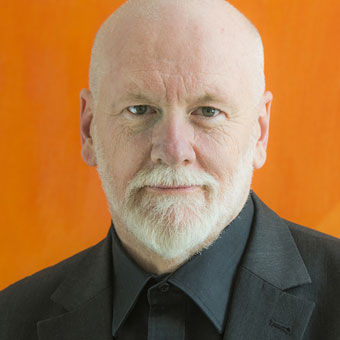 Brett Dean
b. 23 October 1961, Brisbane, Australia
Brett Dean studied in Brisbane before moving to Germany in 1984 where he was a permanent member of the Berlin Philharmonic Orchestra for fourteen years. He began composing in 1988, initially concentrating on experimental film and radio projects and as an improvising performer. Dean's reputation as a composer continued to develop, and it was through works such as his clarinet concerto Ariel's Music (1995), which won an award from the UNESCO International Rostrum of Composers, and Carlo (1997) for strings, sampler and tape, inspired by the music of Carlo Gesualdo, that he gained international recognition. In 2000 Dean returned to his native Australia to concentrate on his composition, and he now shares his time between homes in Melbourne and Berlin.

In 2009 Dean won the Grawemeyer Award for Music Composition for his violin concerto The Lost Art of Letter Writing and in 2016 was awarded the Don Banks Music Award by Australia Council, acknowledging his sustained and significant contribution to Australia's musical scene. In June 2017 his second opera Hamlet was premiered at Glyndebourne Festival Opera to great acclaim; directed by Neil Armfield with libretto by Matthew Jocelyn and conducted by Vladimir Jurowski.

Dean enjoys a busy performing career as violist and conductor and performs his own Viola Concerto with many of the world's leading orchestras. Dean is a natural chamber musician, frequently collaborating with other soloists and ensembles to perform both his own chamber works and standard repertoire, including projects with the Doric Quartet, Scharoun Ensemble and Alban Gerhardt. Dean's imaginative conducting programmes usually centre around his own works combined with other composers and highlights include projects with the BBC Symphony, Los Angeles Philharmonic, Concertgebouw Orchestra, Melbourne Symphony, Sydney Symphony, BBC Philharmonic, Gothenburg Symphony, Toronto Symphony, Tonkünstler-Orchester, Stuttgart Chamber Orchestra and as Artist in Residence with the Swedish Chamber Orchestra.

Dean was 2017/18 Creative Chair at Tonhalle-Orchester Zürich, a role which encompasses conducting, performing and creative programming. Dean also continues as Artist in Residence with Sydney Symphony Orchestra across 2016-2018, and with the Radio Symphony Orchestra Berlin (since 2017).

Other highlights of 2017/18 included three world premieres – the orchestral work Notturno inquieto for the Berlin Philharmonic conducted by Sir Simon Rattle; Approach, a partner work to Brandenburg Concerto No.6 with the Swedish Chamber Orchestra conducted by Thomas Dausgaard; and a duo work for Colin Currie and Håkan Hardenberger, The Scene of the Crime, at Malmo Chamber Festival where he was Composer in Residence. During the season, Dean conducted a number of orchestras including Sydney Symphony and Tonhalle Orchestra as part of his residencies, Auckland Philharmonia, City of London Sinfonia and RTE Symphony where he also performed the Irish premiere of his Viola Concerto. He toured a string quintet programme with Baiba Skride, Geri Gergana, Amihai Grosz and Alban Gerhardt including Zurich, Amsterdam, Luxembourg and Dortmund. Elsewhere his music has recently been performed by many leading orchestras including the UK tour of Hamlet by Glyndebourne chorus/London Philharmonic Orchestra, Engelsflügel by San Francisco Symphony/Robertson and performances of Testament by Radio Symphony Orchestra Berlin and BBC Philharmonic, Pastoral Symphony by the Aurora Orchestra/Collon.

Brett Dean's music has been recorded for BIS, Chandos, Warner Classics, ECM Records and ABC Classics, with a new BIS release in 2016 of works including Shadow Music, Testament, Short Stories and Etüdenfest performed by Swedish Chamber Orchestra conducted by Dean. Dean's Viola Concerto has also been released on BIS with the Sydney Symphony, with Dean reviewed as "a formidable and musical player as well as an impressive composer…an excellent showcase of Dean's range as a composer" (Guardian). Looking ahead a DVD of Hamlet will be released by Glyndebourne.

*

Brett Dean is represented by Intermusica. www.intermusica.co.uk/dean. The works of Brett Dean are published by Boosey & Hawkes / Bote & Bock.

Season 2017/18. NOT TO BE ALTERED without permission. Please destroy all previous biographical material.
This biography can be reproduced free of charge in concert programmes with the following credit: Reprinted by kind permission of Boosey & Hawkes / Intermusica